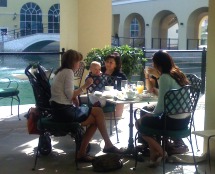 Positioned on a little lake at the Green Community market, with the fountain trickling away in the background, Dante café is truly a respite from the hustle and bustle of this busy city.
We are open from 8am to 10pm, seven days a week. We offer fresh gourmet sandwiches and salads as well as the most delicious cooked breakfasts including our utterly fabulous eggs Benedict.
Our Friday brunch is also something not to be missed. We serve, amongst other things, The Big Breakfast (for two) which includes eggs, turkey bacon, sausage, grilled tomato, mushrooms and loads of toast as well as bottomless tea or coffee.
We are kid friendly with an extensive children's menu and toys to keep the little ones distracted while you get on with the important business of catching up or chilling out. Regardless of your age our 'World's smallest chocolate sundae' is a winner every time.
For directions and a map click here or give us a call on 800 DANTE for more details

Friday Brunch
From 10 to 2: delicious breakfasty things including eggs Benedict, Scottish pancakes & Bircher muesli. 
Express Lunch
A soup, salad or sandwich & drink for Dhs 35.